Increasing number of Made of Coex collection at Heimtextil
COEX, the first and only totally fireproof fibre of vegetable origin, once again starring from 9 to 12 January 2018 at the 2018 edition of the Frankfurt trade fair for textiles, world leader for home textiles and furniture.
January 2018 is set to be the month of textiles thanks to two highly anticipated appointments: the month opens with Heimtextil from 9 to 12 January in Frankfurt am Main, with 3,000 textile companies present, specialising in furniture, linens and technical fabrics, followed by Paris Déco Off where, between 18 and 22 January, a hundred brands from producers and designers will be exhibited. COEX is on display with its partners at both fairs.
Over the years, Heimtextil has established itself as an unmissable international event for textiles, which has taken a long-term outlook to continue to invest in new technologies, new materials and new segments such as contract textiles, which is also one of the focuses of this year's fair.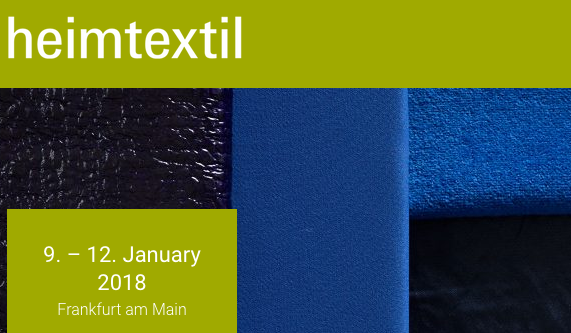 So it comes as no surprise that, for the third year running, made of COEX fabrics - the only technology in the world that makes 100% fireproof vegetable fibres - are on display at Heimtextil 2018 as flagship solutions for many collections of our textile partners: designers Alessandro Bini | Tessuti d'Italia, Gunther Maasberg and Torri Lana and creators Vagatex, Tendaggi Paradiso, Casalegno, Lodetex and HispanoTex choose COEX for the new ranges dedicated to interior decoration. 
But both the trends and the market are "dictated" at Frankfurt at the start of the year. In fact, from one edition to another, a panel of internationally renowned designers "designs" the "trend book", identifying the current trends, then specifically represented in the "team park", an inspiring space that everybody can see, exhibitors and visitors, brought to life by meetings, conferences and lectures where the designers of the panel talk about the analyses, studies and projects developed to make the "trend book" and create the "team park". 
Floral and figurative designs are the undisputed trends of 2018: flowers, leaves, trees, birds and all sorts of vegetation. An indication of the desire shared by an increasing number of us to bring nature into our homes. As nature is often chosen for its aesthetic and beauty, as well as for health and well-being, interior design is becoming more and more natural, both in decorative motifs and in the selection of fabrics. This partly explains why made of COEX natural fabrics are so well represented.
There are four made of COEX collections by Maasberg - Simona, Mariam, Andrea and Veronica - all 100% cotton with different weights (from 63 to 359 gr/m2) and a palette of up to 20 colours per collection, for any interior decoration need (curtains, seat covers and upholstery). 
For seats and upholsteries Alessandro Bini | Tessuti d'Italia presents new cotton and linen collections in 50 colours, from softer nuances to bolder tones, and a very refined collection of 100% made of COEX natural linen curtains. 
The new line of curtains designed by Casalegno is named after Venus, the goddess of beauty, in 100% made of COEX linen, available in four natural colours and two finishes (smooth and soft).
In addition to the incredible softness and unmatched aesthetic quality of a linen or cotton fabric, COEX is also the only fibre in the world that is totally fireproof, the result of years of study and research by Zanolo Spa and Torcitura Padana Spa. It does not burn, does not leak, does not release harmful fumes, such as dioxins and is resistant to the highest temperatures and can be both dry-washed and washed with water in any type of washing machine or industrial machine. COEX also provides guarantees, not just in terms of total fire protection, but also eco-sustainability and green certification, thanks to its natural properties resulting from its cellulose-based composition, making it biodegradable and potentially compostable.
Quality that can be "tested and touched" by visiting the stands of COEX partners at Heimtextil:
Alessandro Bini | Tessuti d'Italia - Hall 3.1 Stand A90
Gunther Maasberg  - Hall 4.2 Stand X15
Vagatex - Hall 4.0 Stand A75
Casalegno - Hall 4.0 Stand C40
Tendaggi Paradiso - Hall 4.0 Stand C54
Lodetex - Hall 4.1 Stand C30
Hispanotex - Hall 4.1 Stand E41
Torri Lana - Hall 4.0 Stand E45
Keep on following us and reading. We will bring you up to date about COEX at Paris Déco Off soon!
You might also be interested