A 'curtain' for dreaming and wellbeing!
How do you choose curtains for your child's room? Curtains are not an accessory: they decorate, spark the imagination and, last but not least, protect! Made of COEX fabrics ensure an extra 100% fireproof and natural protection!
When deciding how to furnish your child's room, the guiding principles must be: safety and functionality, but it is also important to not overlook all of the "conditions" that encourage development of the imagination and creativity!
As well as choosing the colour of the walls and furniture, it is also always important to consider the type of furniture and to position it in a "child-friendly" way (Maria Montessori docet!) , choosing curtains is a very important part of designing an environment that is so precious for children! There are actually far more functions in a child's bedroom than in an adult's bedroom: if they are positioned in front of the window or as a canopy over the bed; they shield light and air, help to keep the desired temperature and muffle noise, but, if positioned elsewhere, they can also create a small space for playing and freeing the imagination, away from prying eyes! 
How often when you were a child did you want to make your own shelter under a curtain, where you could dream up fantastical trips or go on imaginary adventures? Whether it is in front of a window, or a curtain or drape hanging down from a corner of the room that can be unfurled when needed, or a curtain that acts as a tent or a cone-shaped tipi, the curtain immediately evokes the need for protection, to hide and be found, to create a private secret space with an unconditional dream, which is so typical of children! 
So, as curtains have such an important symbolic meaning and function, here are a few aspects to take into account when choosing them!
WHICH COLOR?
A neutral colour is always best for creating perfect lighting conditions, it is also best to avoid colours that are too severe and dark, that fall into gender preferences by choosing pink or blue, or that have overly romantic overtones or with a limited shelf-life in relation to the different growth stages of children. Pastel colours and light patterns are ideal, and, to modulate the light up to full darkness, tone-on-tone darkening panels can be used in combination with the curtains. The colours of natural and vegetable fibres then evoke nature and an immediate sense of freshness and well-being and, in "substance", reduce the net separation from the outside.
PLAIN OR DECORATED?
Curtains are often used by children as scenery flats on the world and this is why they spontaneously lure and entertain us! But, as you know, as little ones tend to explore every object using their mouths, it is best to avoid having curtains with decorative parts that are easy to remove and ingest, that have not been subject to colouration or treatment that may release toxic substances. COEX technology does not require the use of chemical additives such as flame retardants or fire retardant resins. With COEX, it is nature itself that raises the barriers against flames by using phosphorus, nitrogen and sulphur to "naturally" modify the cellulose molecules present in the fibres and in the vegetable compounds, so as to make the materials stably safer, 100% fireproof and biodegradable. As well as hypo-allergenic! And we all know how children also suffer from allergies!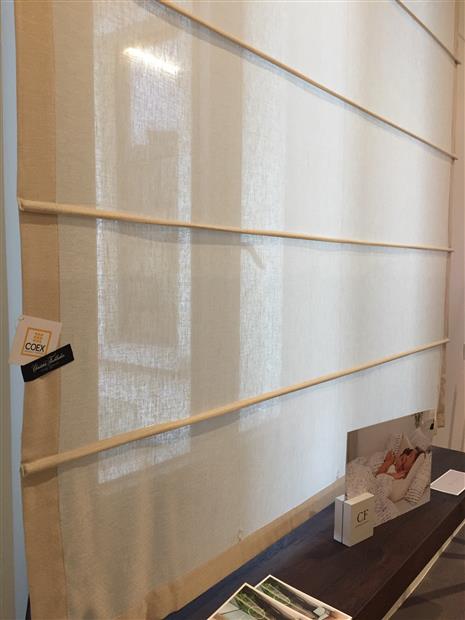 WHICH MATERIAL?
In terms of the material, it is best to choose natural fabrics, avoiding more delicate ones, such as natural silk and linen, which need to be washed more delicately for good maintenance. Some fabrics, such as velvet, can also help to keep the cold away and are therefore more suitable for north-facing rooms in cold areas, as long as they are not too small and congested. Therefore, in terms of safety, the choice of a natural material, including velvet, can, thanks to COEX, also be combined with the 100% fireproof requirement: which is also an important prevention for household accidents, which are the most dangerous and most frequent. 
WHAT TYPE?
Playing hide and seek behind a big curtain is a particularly fun game for children! That is why large ringed curtains are particularly exciting for them, as long as they are reinforced and well-anchored to a wooden or aluminium rod secured to the wall. Alternatively, as a functional solution, albeit a less romantic one, you can choose "Roman blinds" or "panel curtains", which are a little bit safer and easier to keep undamaged and clean because they are harder to trip over and prevent dust from accumulating. You should also keep in mind that it is good idea to avoid using cords to open and close them, particularly if they are at a child's height.
Ultimately, these solutions make it easier to adjust light intensity, according to needs that change with the seasons and life phases: from safeguarding sleep to getting the best light for studying and doing homework. And, given that children's rooms are the parts of the house that need to be renovated most often so they can evolve along with the children, the 100% fireproof naturalness requirement is "evergreen", using "certified" made of COEX!
You might also be interested