VISCOSA (OR RAYON), AN ECO-SUSTAINABLE FIBRE?
A textile fibre widely used for fashion and household linen because it is similar to silk, but cheaper, viscose has a natural origin and thanks to COEX it can also offer 100% fireproof security, which is unique in the world.
One point should be immediately clarified: viscose (or rayon, or even called "vegetable silk") is an artificial fibre made from cellulose through a chemical process. It is made from wood pulp (cellulose) from trees, such as beech, eucalyptus, pine, corn and bamboo which is then immersed and dissolved in a chemical solution from which a viscous pulp is obtained, then spun into fibres that can be transformed into wires.
In the textile sector, it is sometimes easy to confuse the term "artificial" with "synthetic": both refer to man-made fibres, even if they have totally different raw materials. 
The artificial fibres are obtained from renewable raw materials and are similar to natural fibres with the only difference being that they are treated with chemical elements in order to be spun and to improve their characteristics, depending on the specific applications for which they are to be used. 
Synthetic fibres such as polyester, nylon, elastan, polyurethane, acrylic and polyamide fibres - are man-made through chemical reactions, starting from an oil-derived plastic raw material.
Furthermore, in summary: 
• natural fibres are of vegetable origin (cotton, hemp, etc.) or animal origin (wool, silk, etc.); 
• artificial fibres are based on a natural substance; 
• synthetic fibres are made from oil-derived elements, subjected to chemical polymerization reactions.
 
Therefore, the fibre of the viscose, as it is artificial, is a vegetable-derived fibre, therefore potentially non-toxic. However, in intensive cultivation, the cellulose can be exposed to pesticides and herbicides. Furthermore, the traditional process of producing viscose involves treating cellulose with sodium hydroxide (caustic soda) and carbon disulphide, and both are pollutants which are, unfortunately, often dispersed in the air and water. 
Only the viscose produced with alternative low-impact processes obtained from organic cultivation can therefore be considered to be not only of vegetable origin, but also ecological and "sustainable". 
However, according to a report by the Changing Markets Foundation, 63% of the viscose produced worldwide is produced in China for the major clothing brands, with great damage to the environment, due both to the uncontrolled dispersion of pollutants such as carbon disulphide, sodium hydroxide, sulphuric acid and hydrogen sulphide, and the drainage of untreated wastewater.
Moreover, the WeMove.org platform has launched a petition, directed at the major fashion companies, to limit the pollution resulting from non-sustainable production of viscose rayon. Changing the production processes is possible, as shown by the Changing Markets Foundation with a Roadmap published last summer: "Viscose has all the credentials to become a 100% sustainable fibre but it is necessary to reduce polluting production to make way for the introduction of more responsible methods", the document says. 
From this standpoint, it is therefore useful to check whether the fabrics purchased have a label certification, such as the Oeko-Tex, which certifies the non-use of toxic substances, or GOTS (Global Organic Textile Standard), which is the most important international standard for textile products made with natural fibres from organic farming. The standard defines very restrictive environmental and social criteria that apply to all stages of production. 
COEX technology makes natural fabrics, and fabrics derived from vegetable fibres, 100% fireproof, enhancing the intrinsic qualities of the fibres themselves. "Made of COEX" fabrics, in addition to being 100% fireproof, are hypoallergenic, biodegradable, and can be certified REACH (for the total absence of harmful substances in the production process), Oeko-Tex (certifying that they do not contain harmful substances) and GOTS (certifying that they are produced from natural fibres with organic cultivation).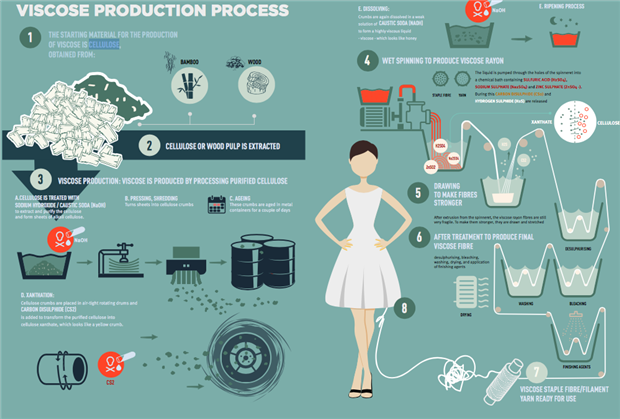 To close the overview on the types of artificial fabrics, it should be said that Tencel, which is often spoken about, is not a type of viscose but a registered trademark with which a well-known company distinguishes its own fibres obtained from eucalyptus pulp (TENCEL Lyocell) and beech pulp (TENCEL Modal). TENCEL Lyocell and TENCEL Modal are fibres obtained from cellulose and produced industrially starting from natural raw materials (such as wood pulp), which are biodegradable and derive from sustainable plantations with low environmental impact.
Nowadays, increasingly in many sectors from the contract sector to the health sector, in addition to comfort, in fact, guarantees are required in terms of health, safety and sustainability.
The made of COEX fabrics to date are the only ones that in addition to the well-being given by the fibres of vegetable origin, ensure 100% fireproof safety, fundamental in many areas of application. Not least in fashion and clothing.
For this reason, although it is completely natural and based on the molecule of cellulose, COEX technology can also be used in mixed fabrics to ensure safety and improve the people's well-being, even in situations where characteristics of resistance and particular performances are required (as in the technical clothing for work or racing), which are so far only achievable with totally synthetic fibres. 
The made of COEX products in this case are designed as an "ad hoc project" validated by the company's laboratories, guaranteeing 100% fireproof safety and COEX standards of well-being and naturalness. 
COEX is an innovative technology created to offer natural fabrics of plant origin, 100% eco-sustainable safety and a perfect "circular" economy cycle, respecting the planet and living beings!
It is a possible "choice" that is already available! 
Follow us and discover the partners that have already chosen it!
 
You might also be interested