Glamping sustainable immersion in nature
The "glamorous camping" trend is constantly growing, glamping, in the sign of the rediscovery of the most authentic well-being in contact with nature. Exclusive structures now characterized by a 100% sustainable design, where the safety of the made of COEX® textiles - the only one that is 100% natural and 100% fireproof - can make the difference. Because with COEX®, nature protects you and you protect nature!
If everyday life leads us to spend our days within the walls of a building, with often rather hectic rhythms, it is "natural" to feel the need for regenerating stays in contact with nature, rediscovering scents, sounds and colours and above all slower rhythms. Perhaps more suited to us.
Alongside the passing of time marked by the dawn and the sunset, the desire is also to discover unconventional destinations: the boundless Australian desert or Wadi Rum in Jordan, the crystal clear waters of Thailand, the wonders of the Amazon rainforest.... According to a recent survey published by YouGov, 72% of Italians interviewed want above all to experience an adventure in nature that is outside the box, like sleeping in an igloo, visiting an active volcano...and according to a Booking survey, the alternative and experiential vacation is a real trend. However, you do not have to give up the comforts of city life. 
To respond to this need - from America to Northern Europe, from Africa to Asia and even in Italy - "glamping" was born and spread, an innovative type of "glamorous camping" that lets you immerse yourself in nature in pristine, or almost pristine, locations and in original and super-equipped facilities. Eco-friendly, as a matter of principle! 
In fact, there are many "glamping" accommodation solutions that combine innovation, design and extra comfort with ecology. Alongside the more "traditional" tents, caravans, vintage caravans and mobile homes - to be imagined, however, in a super-equipped and, above all, environmentally friendly version - the choice is between camouflage tree houses or charming igloos, and the Asian yurts also called ghers - circular wooden structure, which is removable and easily transportable, covered with waterproof and transparent fabrics in the upper part to enjoy the spectacle of the starry sky; the brand new pod - an open air wooden structure, a sort of mountain hut, which is conical in shape, ideal for couples and families; wigwams very similar to Native American tents - consisting of a frame made up of poles, covered with skins or more often fabrics, wicker or mats; and the newest bubble rooms - of the increasingly popular bubble hotels abroad and now also in Italy - romantic transparent bubbles where you can enjoy, in addition to the unmissable starry, breath-taking landscapes on the seashore, like in the heart of a green forest.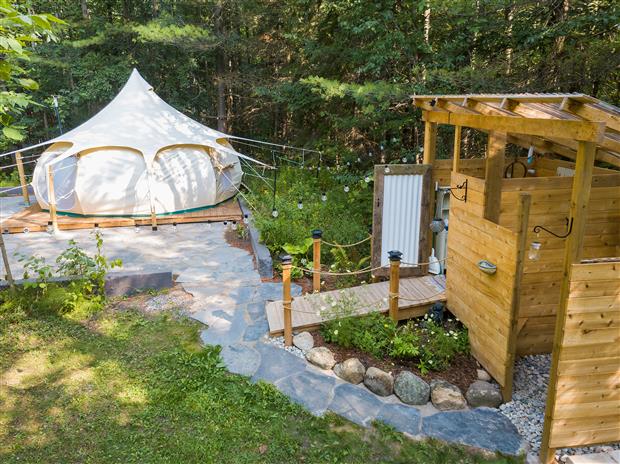 In all cases, these are structures that are designed to promote the least possible mediation with nature! With the most absolute respect for its rhythms and benefiting from all that it "naturally" offers for a healthy lifestyle and authentic well-being.
This captures the link with the COEX philosophy, a revolutionary technology created to make vegetable fibre fabrics that are 100% fireproof, enhancing the properties inherent in the very nature of the cellulose. 
Made of COEX fabrics are actually vegetable in nature and 100% fireproof and ensure all the comfort and well-being of plant fibres and absolute 100% fireproof safety. In addition to being hypo-allergenic, biodegradable, 100% sustainable and plastic free. All in all, ideal for creating ultra-modern glamping curtains out of natural and 100% fireproof fibres, but also for all furnishing fabrics of any other type of accommodation.
Another component that characterizes glamping nowadays, strictly in line with the desire to recover an authentic relationship with nature, is in fact 100% sustainability: the exclusive use of eco-compatible, biodegradable materials and 100% green fabrics and design that are plastic free. Just like COEX which positions itself as a circular product that is dedicated to being plastic free!
However, nowadays, eco-sustainability is the most coveted and widespread quality in the hospitality and contract sectors, and even more traditional. In the knowledge that the protection of the planet is not a utopian ideology or an ethical necessity, but rather the essential condition for real and healthy well-being.
Therefore, electricity from 100% renewable sources (wind and photovoltaic in the head), hot water production solar thermal system, accessibility without a car, low consumption LED lighting, organic food, biodynamic and 0 km, biodegradable and eco-friendly detergents , recycling, 80% composting and recycling areas are some of the conditions "sought" particularly by glamping tourism .
Glamping offers the opportunity to experience the beauty of real natural oases, - on the highest peaks, by the sea or in wilder areas - anticipated and accommodated in structures designed with the strictest adherence to the highest standards of sustainability, starting from energy, water, resources and raw materials savings. 
Unlike the more traditional campers, the modern glamper does not bring their "home" with them, aiming for the essential and relying on their organizational and survival skills. Not all of us were scouts or are accustomed to this, even though nature calls us and irresistibly attracts us. Indeed, according to a recent survey by Eurodap (European association for Panic Disorder) many people feel the need to travel and stay in complete safety, together with the desire for exclusivity and adventure.
Now, 100% natural and 100% fireproof and certified made of COEX represents the ideal, structural and furnishing textile for many glamping lodgings: close to naturalness and sustainability, it allows you to feel 100% safe, even in the wildest contexts and to fully experience it!
Nature, beauty, well-being, technology, innovation and sustainability are the key words for an authentic glamping experience. If they are made of COEX, they will also be marked by extra safety, on holiday like at home, on the road and in any place!
You might also be interested