Wholehearted hospitality that puts the individual at its centre
Founder of the eponymous architectural firm and design studio, Simone Micheli Architectural Hero, with offices in Florence, Milan, Puntaldia, Dubai, Rabat and Busan, Micheli curates specially commissioned themed exhibitions and teaches at the Design Polytechnic and the Polytechnic School of Design in Milan. His projects encompass architecture, interior design, design and visual design for public bodies and high-profile private clients, particularly in the hospitality sector. A passionate collaborator in several of COEX's projects, we talked to him about his ideas on design and architecture in relation to common COEX themes: nature, safety and technological innovation.
How did your relationship with COEX, an exclusive technology capable of making 100% fireproof fabrics from entirely plant-based fibres, begin?
I fell in love with COEX immediately for its awe-inspiring, contemporary innovations. It offers fresh opportunities for a range of entrepreneurs working in the world of more traditional hospitality. Some of the projects I'm currently involved in include serviced and hotel apartments and, when I share the specifics of COEX, namely that it's 100% natural and 100% fireproof, there is great interest in its technological performance for fittings and furnishings. Consequently, although it's still in the initial stages, I believe that made of COEX fabric has great potential for a wide variety of applications.
Technology permeates many areas our everyday lives and design is invariably high-tech, defining the identity of many projects. What space is there for "natural" design?
These days, the theme of nature is fundamental in many fields. We have a need to reconnect with nature. Technology's latest concept is going back to nature: we have to reclaim the sensations that have fallen by the wayside due to an improper use of technology. COEX has unveiled a subliminal message, a significant, technological innovation, which guarantees 100% fireproof protection through making use of the properties inherent in natural fibres. Picture the inside of a hotel room, a place of sanctuary: it is clothed in materials that offer excellent performance, just like synthetic materials, but are also 100% fireproof and 100% natural. Such innovation will become increasingly sought after, as an indicator of safety and naturalness, as well as beauty.
On which fronts and in which fields are you interplaying the relationship between architecture, interior design and environmental sustainability? What does true luxury look like for you nowadays?
I always talk about sustainability and eco-compatibility, which are two related but distinct aspects. Sustainability is commercial sustainability and is therefore also economic. Eco-compatibility is environmental sustainability, which is a transversal trend that currently inspires many sectors, from food to design to furniture. The concept of luxury has also evolved in relation to sustainability and eco-compatibility. In the past, luxury meant opulence, wealth and indulgence. Nowadays, luxury has very different connotations compared to the traditional and stereotypical ones: it is allowing yourself time with your children and family; listening to the sound of the wind; savouring the scent of the ocean; finding space for silence and solitude to think about one's past, present and future; sharing emotions and experiences with others. Nowadays, luxury is a mixture of elements that focuses on the individual; it is a fresher and more flowing relationship between humans, space and time. For this reason, forming a "new" relationship with nature is fundamental, it means reclaiming one's "nature" and human identity.
What you're saying is closely linked to the quest for authentic wellbeing...
Absolutely. I believe designing environments that offer authentic wellbeing means creating spaces linked to human corporality, spaces of "regeneration", not just hospitality. We need to bring the individual back to the centre, with their true needs and desires. Hotel rooms and hospitality spaces often pay heed to stereotypes, which quickly become obsolete. Today's designers need to know how to break through the barriers and conditioning of what has been established by paying extremely close attention to the "reality" of the individuals in the space.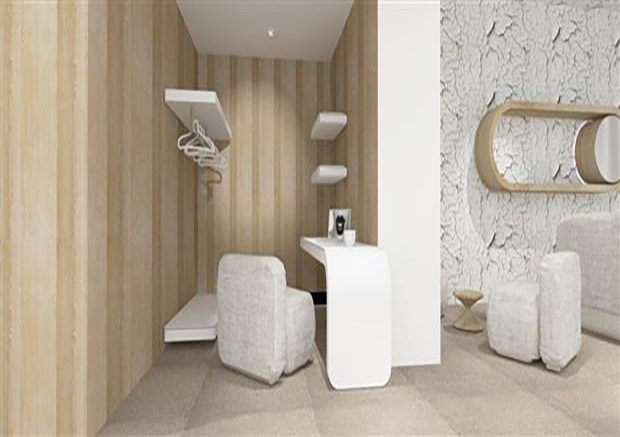 Three Suites for TownHouse Duomo, Milano, Suite2 - Simone Micheli Architect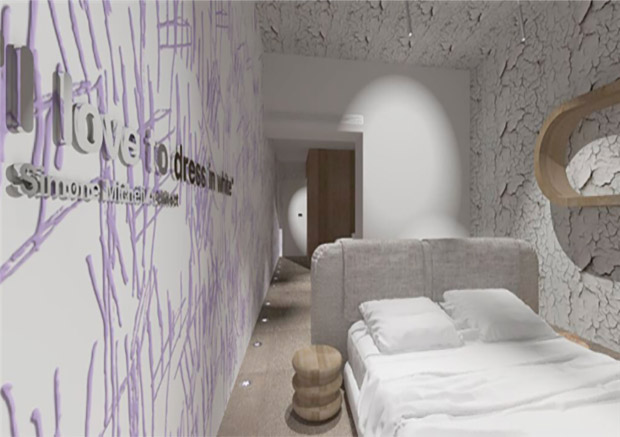 Three Suites for TownHouse Duomo, Milano - Simone Micheli Architect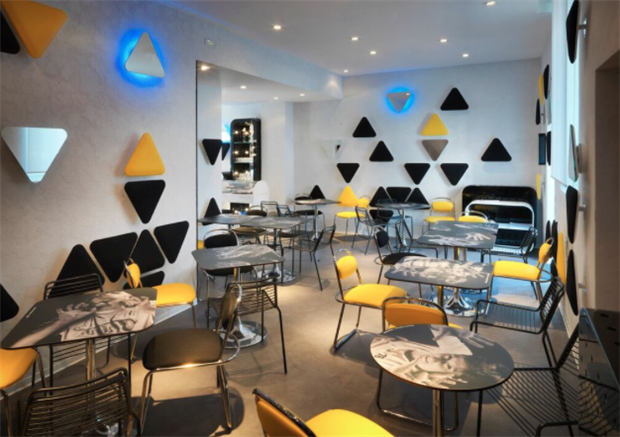 The BaR, LambrateVentura, Milano - Simone Micheli Architect
Which materials do you prefer? How do you use the fabrics?
I don't have a particular preference for one material over another. I choose materials based on the specific needs of the project; I study them and understand them as a palette with which to create synesthetic processes. The medium that perhaps most fascinates me is the mirror because reflection multiplies spaces and plays tricks on us. Through mirrors, it is possible to catch unexpected glimpses and inhabit the space, increasing perspectives. Fabric itself is a precious material: I love monochrome, neutral fabrics, which come to life through the material being appropriately used, in relation to light and its juxtaposition to the other elements. In relation to its qualities and performance.
The guarantee offered by made of COEX fabrics is that they are not only natural but, most importantly, they offer protection and safety. Does your project (3S) X THD, Three Suites for Town House Duomo fall under the banner of luxury eco-sustainability and safety?
(3S) X THD, Three Suites for TownHouse Duomo, in Galleria Vittorio Emanuele, is an almost complete project in the heart of Milan for the prestigious brand Town House Hotels of the Seven Star Group, in which COEX's 100% safety and naturalness play a leading role. These three elegant and distinctive suites communicate synaesthesia, which I believe is the future of the world of hospitality. The key words are essentiality, naturalness and wonder and, most importantly, the individual is at its centre, which, for me, is the most authentic luxury.
You are curating the exhibition "Regeneration Hotel" for Fuori Salone 2018, in collaboration with PKF and Tourism Investment. Can you give us a taster of it?
The project I'm working on for Fuori Salone 2018 is a large-scale project that will occupy an area of over 4,000 square meters at the Officina Ventura 14 in the Lambrate Design District. Regeneration Hotel will be an experimental exhibition and, I believe, the largest event dedicated to hospitality and contract ever held in Milan. We will create six or seven themed "hotel space" installations, spaces that demonstrate the future of hospitality. PKF is our partner for the design of contents and conventions and international hotel groups will be involved in the exhibition Agorà. We will focus on regeneration because there are so many hotels that need to be regenerated. The focus of the exhibition is the design of the restoration of structures that will actually improve and regenerate the lives of individuals.
What do you think the challenge for the contract and hospitality industry is today? What is your personal ambition?
I believe that the hospitality industries that will succeed are those that are unique, distinctive, emotive and iconic with an authentic style that puts the individual at their heart. My goal, my ambition has always been to create spaces, both indoors and out, that are works of art that arouse strong emotions, including ambivalence and resistance. Spaces and places in which the lived experience becomes memory. When the lived space becomes an active memory, it means that a work of art has been experienced. On the one hand, the ancestral will to create unique work is innate in every architect; on the other, the market is increasingly demanding projects and environments with a strong identity that can generate unique experiences that communicate and narrate. Technology and nature are two fundamental, and not necessarily conflicting, aspects – COEX is living proof of this: the two faces of modernity to be increasingly striven for and reclaimed and because architectural design needs to be unique and authentic.
You might also be interested