COEX "red string" at Proposte 2018
The 26th edition of the textiles fair in Villa Erba "glows" with innovation in the made of COEX, 100% fireproof and natural collections, by our partners Alessandro Bini | Tessuti d'Italia, Casalegno, Limonta, Lodetex, Redaelli Velluti, Tendaggi Paradiso, Vagatex and Yutes.
Around ninety showcases from all over the world - this year including showcases from Africa - have charmed the many visitors to Proposte 2018, with their new collections.  
For this highly refined edition, the installation at Villa Erba di Cernobbio was entrusted to Mario Bellini, an internationally renowned architect and designer, who created a spectacular spiral with over 230 fragments of fabric, ideally spread from the central pavilion to the park, as a metaphor for the energy and creativity of a sector, namely textiles, which is increasingly linked to architecture and interior design and abreast in terms of innovation.
In terms of quality, design and innovation, between the stands of the showcases at Villa Erba and in the showrooms installed in Cernobbio, the collections of all COEX partners have attracted great interest, the first and only technology capable of ensuring 100% fireproof safety and the well-being of cellulose-based vegetable fibres - such as cotton, linen, viscose, hemp - which are increasingly sought after for home furnishing and contracting.
The made of COEX collections by Alessandro Bini | Tessuti d'Italia are characterised by a great vibrancy and an array of colours in cotton and linen for seats and upholstery and in linen for curtains, while refined tone-on-tone textures are the distinctive feature of Naturally Safe, Limonta's Made of COEX collection for interior covering (in viscose and linen in 84 colours and two "First" and "Second" models).
If the fabric furnishes the rooms, the curtains dress them, and made of COEX fabrics "protect" them, thanks to the qualities of their vegetable fibres: A new entry among COEX partners is Yutes Natural Fabrics, a company from Barcelona that is a leader in the production of natural fabrics for interior decoration which, at Proposte 2018, presented a pure linen for curtains, which is very soft to the touch; a very refined natural "scenery flat" for many types of spaces.
They combine the strong Made in Italy tradition with the innovation of 100% fireproof technology and the comfort of vegetable fibres, including Venere, the new and elegant line of fabrics for 100% linen curtains, in four natural colours and two finishes (smooth and soft), created by Casalegno, and the refined made of COEX collections by Tendaggi Paradiso.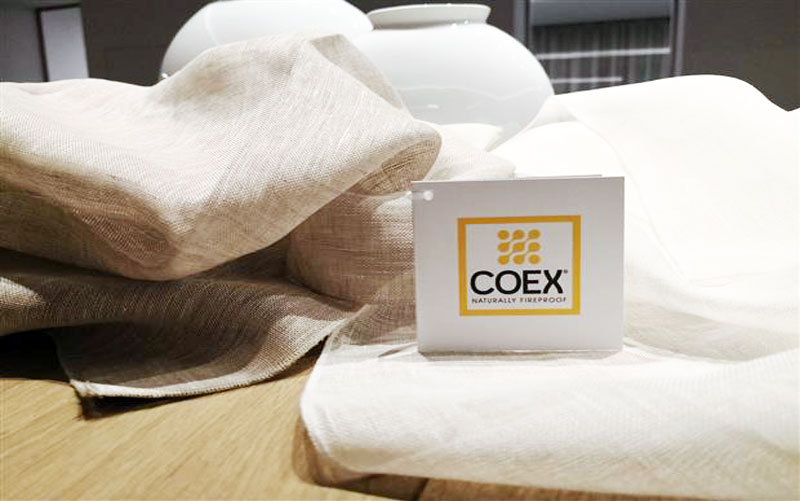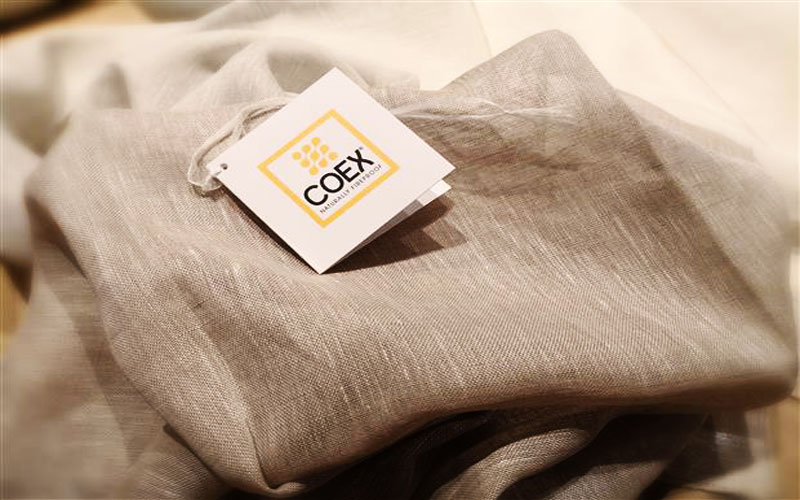 And, if it is the brightness to conquer for the made of COEX fabric collections by Lodetex and Vagatex, NATURALLY FR by Redaelli, great interest is proven for a type of furniture or installation where the elegance and the shades of velvet require extra, 100% fireproof safety. In your home and in public spaces.
Hypo-allergenic, free of toxic and biodegradable fumes, made of COEX fabrics actually ensure superior performance than synthetic fireproof fabrics, ensuring the exclusive well-being of plant fibres.
An innovation for made in Italy that the interior design and the designers of public and private spaces are always seeking more. Proposte 2018 docet!
You might also be interested