2019 the year of the wallcovering walls that recount beauty & well-being
Wallpaper has a long history stretching back more than one thousand years and today it is an eco-sustainable must for interior furnishing: non-toxic, completely natural and fire-resistant, just like the made of COEX 100% vegetable and 100% fireproof fabrics!
The English call "soft furnishing" the art of furnishing with fabrics: curtains, sofa coverings and armchairs, cushion covers and, increasingly, even wallpaper, a real must have for places and homes with the purpose of uniqueness and now also of well-being...up to the ceiling! The "statement ceiling" is, in fact, the other English trend of decorated ceilings that make you walk with your nose turned upwards, attracted by unexpected monochrome or effect wallpaper. 
From the first models imported from the East in the 12th century, absolutely indispensable in the 1970s, today wallpaper is ecological and an eco-sustainable trend. Moreover, architects and interior designers who, along with its aesthetic value and wellness properties, also know about the thermal insulation, breathable, water-repellent and sound-absorbing properties, put it everywhere: on the ceiling and also in the shower cubicles and outdoors. 
Of course, in addition to the choice of different patterns, textures, colours and styles, essential to characterizing rooms with the most appropriate mood, in the selection it is not possible to ignore the conditions of the walls to which it is applied: if it is a smooth or porous surface, if it is plasterboard, if it is in environments such as bathrooms and kitchens for which it is crucial to opt for water-repellent paper. In general, it is important to opt for wallpaper with high performance in terms of resistance to steam, yellowing and abrasion, which can be removed when dry so as not to damage the plaster.
But, in addition to the high performance, today the growing interest in wallpaperas a furnishing complement is not only a matter of style, it is increasingly a choice of well-being, because covering the walls can also be a protection against toxic components, bacteria, noise and it can also contribute to generating ideal temperatures, as well as representing greater safety, for example from fire(decisive for the hotel and naval sectors) or in the event of an earthquake (such as the brand new high-tech fibreglass wallpapers).
For all this, the real discriminating factor is, precisely, the material they are made with, because today there are many types available, but not all of them are an ecological and well-being choice. There are:
natural cellulose (paper) with different thicknesses and surfaces (satin, gloss, rough, etc.); 
non-woven fabric (NWF), which is also pvc free;
fully woven, even vegetable (in cotton, jute, linen, bamboo or the very valuable ones, made of silk for eccentric and sophisticated environments); 
fibreglass;
vinyl.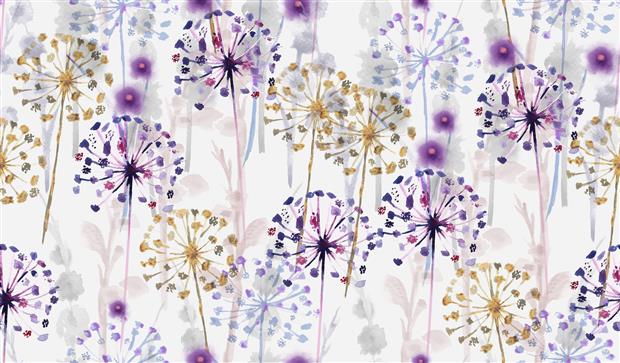 Vinyl wallpapers are among the most resistant and easy to apply and are characterized by the presence of plastic material (vinyl) that can be mixed with cellulose in the manufacturing process, generating a support with high tensile strength, or as an upper film that covers the cellulose paper. 
However, today, the evolution is in the PVC free non-woven fabric. NWF is a type of covering made with resistant synthetic fibres, which require little maintenance, are generally water-repellent, washable and even suitable for damp environments, such as kitchens and bathrooms; the pvc-free non-woven fabric is, on the other hand, the skilful combination of cotton and cellulose, plastic-free and fire-resistant fibres. This is why today it is one of the most sought after types!
More generally, wallpaper is "ecological" if it is:
made up of natural materials, vegetable fibres;
free of harmful chemicals such as chlorine, lead or formaldehyde; 
completely biodegradable, breathable and fireproof, a quality COEX bouquet;
applied with natural water-based glues, harmless to health; 
decorated with water-based inks.
An eco-sustainable wallpaper actually uses ecological water-based inks, non-toxic glues that can be applied directly to the wall and not on the wall, as in traditional wallpapers.
Only with these health and safety features is it also particularly suitable for children's bedrooms, and we know how important it is to turn small rooms into the smallest spaces for well-being, to free the imagination and creativity, even through furniture!
It can also be used and represents a valuable element to create places for well-being, with welcoming atmospheres even in schools and hospitals and its eco-sustainable purpose can also be attested by certifications such as the VOC/VOL(volatile organic compounds emissions) certificate, class A+ and/or fire-resistance certificate or low flammability certificate; Greenguard, which guarantees products for interiors designed with strict limits on chemical substances emissions; Nordic ecolabel, which certifies the entire life cycle of a product; UL, globally recognized certification regarding potential risks of fire, electric shock and mechanical hazards; AgBB, one of the most stringent European standards on emissions that measures the health effects of building products.
Of course, its maintenance is also very important: all types of wallpaper need to be cleaned regularly with a soft brush vacuum cleaner. Water-repellent fabric wallpaper can be cleaned with a soft wet cloth and a light degreaser for more difficult stains; only in the event that the fabric is not water-repellent, should the washing be entrusted to professionals. The choice of ecological wallpapers does not entail any special maintenance care: it must be said however that the natural cellulose choice, as it absorbs water, is not washable and must be passed over quickly. 
And now, with a bit more information to make an informed ecological choice, with authentic well-being, all that remains is to free your imagination by being inspired by the trends of 2019: first of all the vintage style with impressive prints and blow-ups, strong colours and surreal fantasies, or preferring the essential nature of the geometric style or the naturalness of the jungle or floral style or of textures that simulate natural materials, such as marble and wood. 
Because the need for naturalness and contact with nature continues to be a need for health and well-being, especially inside the walls of one's own home that today we increasingly want a 100% safe haven that is, if possible, 100% natural, just like COEX!
You might also be interested